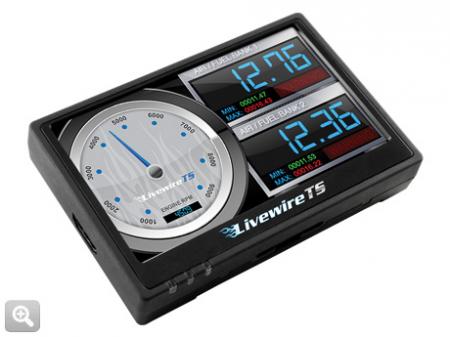 SCT Livewire TS Programmer and Display, 96+ Ford cars
Be the first one to write a review
$797.48

SKU: SCT-5015
Part# 5015P
More Details
Reviews
Ask a Question
SCT Livewire TS Programmer and Display, 96+ Ford cars
SCT's new Livewire TS is packed with performance tunes that unlock your Ford's hidden performance by re-calibrating the computer for Maximum Horsepower and Torque, Increased Throttle Response, Firmer Shifts and even Increased Fuel Mileage. The Livewire TS is one of the most advanced programmers and display on the market, features include:
Full Color 4" Touch Screen Display
Rear View Camera Input
Pre-loaded Dyno Proven Tune Files
Holds up to 10 Custom Tune Files
High Speed Data Logging %26 Data Monitoring
Built-In Performance Calculator
Reads / Clears DTC Trouble Codes
User Adjustable Tune Options
User Selectable Graphics and Gauge Layouts
What's Included
SCT Livewire Tuner
USB Cable for updates
Manual on CD
Windshield mount
SCT Emblem
Product Information
Preloaded Tunes
2011+ Mustang GT, Boss
2011+ Mustang V6
2007-09 GT500
2005-10 Mustang GT, V6
2003-04 Cobra, Mach 1
1999-04 Mustang, Cobra
1996-98 Mustang, Cobra
1996-04 Mustang V6
2003-04 Marauder
2005-06 Ford GT
2006-09 Fusion
2000-04 Focus, SVT
1996-11 Crown Vic
2000-06 Lincoln LS
2002-05 Thunderbird
FAQ
Custom tunes from Jon Lund are available for cars that preloaded tunes are not available for. Contact us for details.
Ask a question about this product