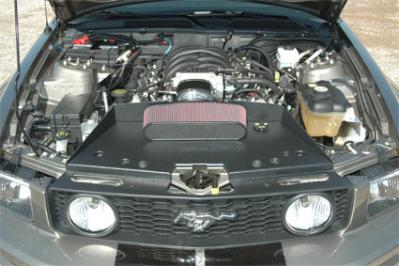 WMS High Velocity Intake, Ram Air Box and Cleaning kit, 2005-09 Mustang GT
WMS High Velocity Intake, Ram Air Box and Cleaning kit, 2005-09 Mustang GT1
Average rating:

Write a review | Read all reviews

$499.99

$379.99

SKU: WMS-HVI05MR
Part# HVI05MR
More Details
Reviews
Ask a Question
WMS High Velocity Intake, Ram Air Box and Cleaning kit, 2005-09 Mustang GT
Everything you really need to run the WMS Intake on your 05-09 Mustang GT. This package includes our 80mm High Velocity Intake System, the Ram Air Box with seal and a KandN cleaning kit to refresh your filter when it's time. Of course the WMS High Velocity Intake offers the coldest, straighest shot of air of any intake with power gains across the rpm range and well over 25 rwhp gains at higher rpm without a programmer.
Click Here for more technical information on our High Velocity Intakes
What's Included
WMS HVI Air Filter
Billet MAF Meter - 80mm
Coolant Tank Relocation Kit
MAF Wiring Extension Kit
Hardware Package
WMS Ram Air Box
K&N Recharge Kit
Product Information
FAQ
HP Gains?
23rwhp (With No Tune)
Installation Difficulty?
Beginner to Intermediate
Install Time?
2 Hours
Reviews
WMS High Velocity Intake, Ram Air Box and Cleaning kit, 2005-09 Mustang GT
1
Average rating:

Write a review
|
Read all reviews
Featured positive reviews:
WMS High Velocity Intake, Ram Air Box and Cleaning kit, 2005-09 Mustang GT

Great product
11/29/2016
Great product very straight forward on the install instruction and good feel of power and looks great under the hood
Ask a question about this product