Baer Brake Systems
Extreme & Extreme Plus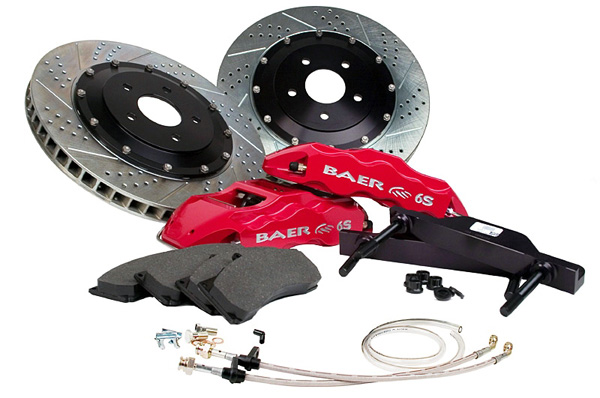 Baer Claw EXTREME (one piece rotors) and EXTREME+ (two piece rotors) brake systems deliver unparalleled performance, with durability exceeding the demands of the most serious enthusiasts. Equipped with Baer's 6S 6-Piston forged MonoBlock calipers and 14", 15", one or two piece rotors, EXTREME and EXTREME+ systems are equally brilliant at the track, on the road, or simply as icing to complete your vehicles look! The EXTREME brakes employ current state of the art race technology for street applications.
Pro Plus [6P]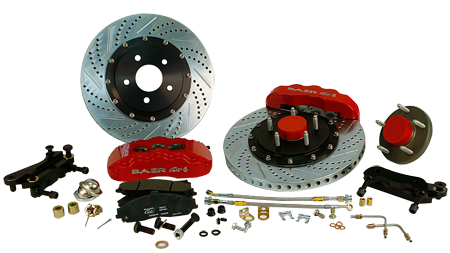 Baer's best selling Pro and Pro+ brake systems featuring the new 6P, 6 piston calipers and 13" or 14" slotted, drilled and zinc washed, 2 piece rotors. Extreme performance and looks at an affordable price, BaerŐs new Pro front and rear brake systems are sure to please the most demanding owners and impress the most critical on-lookers! The 6P calipers were designed to employ the same pad as Corvette C5/C6. This high performance pad style is available in more compounds ranging from street use to full race than that of any other pad, including many compounds available directly from Baer.
Track 4 [T4]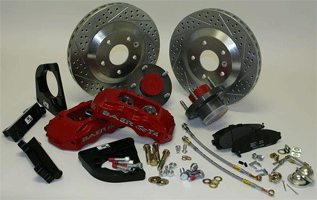 Available for most domestic muscle car applications with 16" or larger wheels, this much anticipated brake system is the next evolution to Baer's popular "Track" brake system.
Featuring our newest T4, 4 piston calipers mated to 13" diameter rotors; it promises to offer performance well beyond that of any other brake system in its price range! And with additional features such as standard powder coated caliper finishes in Red, Black or Silver and brilliant, slotted, drilled and zinc plated finished rotors, the NEW Track-4 brake system is sure to look as good as it performs!
SS4 - Serious Street
Baer SS4 front brake systems are designed to fit within the smaller period-correct wheels popular on 60's and 70's muscle cars. Featuring 4-Piston aluminum calipers and 1 or 2 piece 11" cross-drilled, slotted and zinc-washed rotors, they jazz up the looks of these older street machines while delivering the much needed braking performance of today's technology. SS4 rear brake systems are an excellent match to the 6P and T4 front brake systems with a matching look and parking brake available for most applications.
Drag Spec - Deep Stage SS4+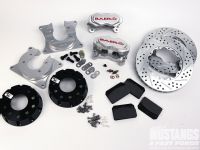 The SS4+ front Drag Spec system was designed due to a need for a small, light weight brake for the ever growing and popular radial classes. Many customers have adapted brakes that are really designed for vehicles weight under 3000lbs to these heavier, fast cars with little luck. This system is the first of its kind designed to be used on 3200+ lb cars, and work properly! Offered for a wide variety of early domestic cars, Baer also offers direct bolt on SS4+ Drag Spec systems for late model muscle cars. Baer offers direct bolt on kits for the 2010 Camaro, SN95 Mustang (1994 - 2004), S197 Mustang (2005 - 2012) and the 1993 - 2002 Camaro (needs 1998+ spindles).
Iron Sport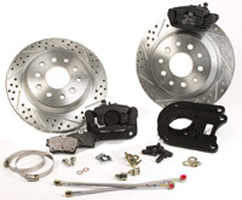 Baer's latest innovation in affordable performance. It's known that one of the most significant upgrades you can make to your muscle-car is the elimination of your worn and outdated drum brake system. No other component has the ability to not only save your life, but also increase driving excitement and satisfaction. While not killing your bank account. Baer Iron Sport System is compatible with a large array of popular domestic rear-ends, while still being a cost effective solution to introducing modern braking technology to your ride.