Western Motorsports is located at:
Western Motorsports Inc 223114 Range Road 285 Rocky View (Calgary), AB T1X 0J7 Phone:
(403) 243-6205 Fax: (403) 243-8102 Email:
fastford@wmsracing.com
Hours:
Mon-Fri: 9:00 AM - 5:30 PM MST
Saturdays by Appointment
Sundays & Holidays Closed
View Larger Map
With Stoney Trail now open in the south east it is quicker and easier to get to WMS! When coming on Stoney Trail take the 88th Street / 22X highway exit and merge onto 22X East. When on the 22X take your second right, this is range road 285, we are 2.5 km's south on the left side of the road.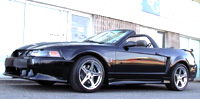 WMS was founded in 1989 to prepare our own Mustangs for competition - need created innovation and soon we were manufacturing and distributing many parts for the 5.0 Mustang and other High Performance Fords.
Today, we are intent on becoming one of North America's leaders in Ford Performance; bringing our customers the best in Ford Performance parts, service and technology.
We are a multi-faceted company and can handle any of your Ford Performance needs - complete customer satisfaction is our goal.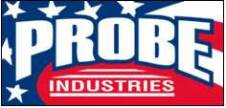 WMS stocks the best names in Ford Performance, you can either come by and check out the latest gear, or order securely by phone or online
We are distributors for many Ford Performance companies including: Ford Racing, Trick Flow, Baer Brakes, Eibach, Procharger, Tokico, Koni, Bassani, BBK, Magnaflow, MAC, Tremec, Steeda, Maximum Motorsports, Edelbrock, Accufab, Manley, Vortech, CDC, Diablo, SCT, Livernois, Mcleod, Moser, Roush, Probe Racing and many more.
Visit us on location or in the Online Store to see many of the parts we carry.
For many years, WMS had a full installation facility that produced some of the finest Mustangs for our customers in Western Canada. In 2006 our mechanic at the time, Tim Anderson, took over our install services under his own shop, Zero-60. Tim's years of experience with us gives us the confidence to work with him on customer projects. This allows WMS to concentrate on offering the best parts for your project while Zero-60 can be sure they are installed correctly. You can contact him at www.zeroto60.ca
Our dyno tuning services also moved to a long time customer, Matthew Puzey. His company, Tecmotion, offers a complete dyno facility for tuning. You can contact him at www.tecmotion.ca