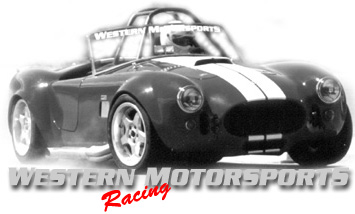 Our roots are racing!
With a true racing background, WMS has the ability to offer you real world expertise. WMS has the trophys to prove the fact that we are true race fanatics and know what we do. From 1/4 mile Drag Racing to Autocross, Road Racing and Pro Rally Racing, WMS has done it all, and done it extremely well!
GTS Mustang
Currently WMS Racing runs one of the most competitive road race teams in Western Canada and has won the WCMA GTS Championship and Endurance Championship, numerous times from 2003 to 2009!

WMS Racing - Shannon Wall, Colin Gordon, Mikael Sears, Namala Wijesooriya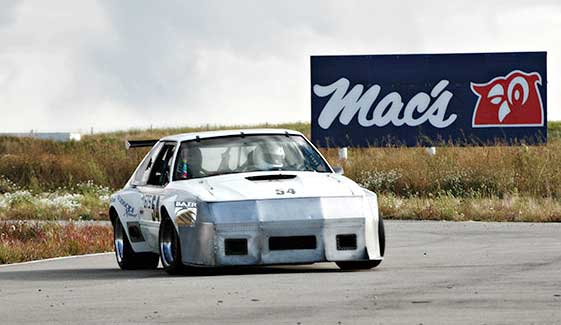 The WMS Road Race Mustang is was built on a budget. Engine is a basically stock 4.6 32V with our SDS computer, in 2005 we added Comp Cams. Suspension is coil over front and 3 link in rear, brakes are Baer all around. Wheels were 15x10" stock car but we have upgraded to 16x12" and built some fender flares to cover!
Factory Five Cobra
Shannon Wall piloting the WMS Cobra at Knox Mountain.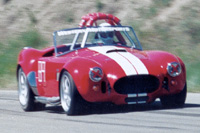 Cobra Desktop Wallpaper - 1024x768 CLICK HERE
The WMS Cobra was designed and built by WMS. At the heart of the Cobra is a 347 Stroker with WMS Victor Jr. EFI intake all run by the WMS SDS Digital Fuel Injection System. The Cobra made 401rwhp and weighed in at a very slender 1980lbs; talk about power:weight ratio! Shannon Wall, in the WMS Cobra has won many championships and held the record in 1999 for Knox Mountain with a 1:55:889.
Drag Racing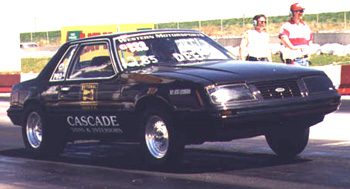 Tim Anderson launching in the old 302 setup - ran a best of 11.59@117 with a 150hp shot of Nitrous.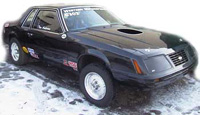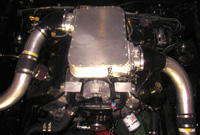 On the outside, this looks like a mild manered 83...but under the hood lies a 5.4L Modular Motor from a Lincoln Navigator. Our test motor was stock with a WMS Intake and SDS, which ran a 11.9@115. Currently, we are building another 5.4 with high compession Probe pistons, Manley rods and seriously ported heads with ModMax valvetrain and Crane cams which will run into the 10's. After that, the fogger NOS kit comes, and so do the 9's.
Rally Racing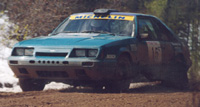 Shannon Wall and Dave Lockwood in Kananaskis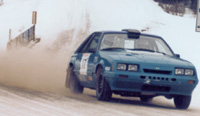 Rally Desktop Wallpaper - 1024x768 CLICK HERE
The WMS Rally car is truly an engineering masterpeice. The motor was moved back a complete 13" to achieve a better weight distribution. A custom tubular front end was fabricated to accomodate this. The suspension uses 8 shocks to take the punishment of rally racing. Power comes from a mild 320hp 302. Shannon and Dave won the 1997 Western Canada Rally Championship.