TSW Nurburgrings
WHEELS! The biggest appearance change you can make to a car!
March 21, 2010
Hands down, one of the biggest appearance and handling improvements for your Mustang is a set of aftermarket wheels and tires. For our 2011, we decided on a set of TSW Nurburgring wheels with Toyo T1R Tires. Fronts are 19x9.5" wheels wrapped with 275/35ZR19 tires and rears are 20x10" wheels with huge 305/30ZR20 tires. The Nurburgring is one of TSW's new rotary forged wheels and is very lightweight, 19s are 24lbs and 20s are 25lbs, over 5lbs lighter than some comparable wheels. As you can see, the package looks fantastic on the car!!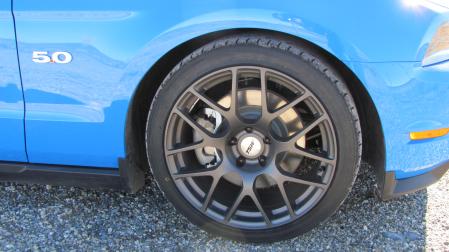 Steeda Lower Control Arms
HOP! HOP! HOP!
March 21, 2010
It seems like from the beginning of time, or at least the beginning of the Mustang, Ford's favorite pony car has had wheel hop! The 2011 Mustang GT is no different, fortunately Steeda has this issue under control. Steeda's billet lower control arms solve the wheel hop while adding to traction and handling and even look good doing it!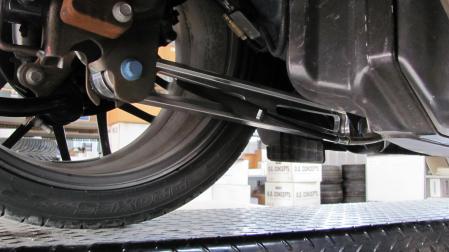 Eibach Lowering Springs
4x4 Mustang NO MORE!!!
March 21, 2010
Just like past Mustangs, the 2011 sits way too high and lowering springs are one of the first modifications needed. We used Eibach Pro springs to drop the car about 1.25" front and 1.5" rear. The Eibach springs are progressive rate and offer much better handling than stock without sacrificing ride. We have tested the car at a couple autorcrosses and they work very well, as Coyote Wild was of the fastest cars on street tires. A Steeda adjustable panhard bar is used to center the rearend after lowering. The low and aggressive stance looks great for those Friday night cruises too!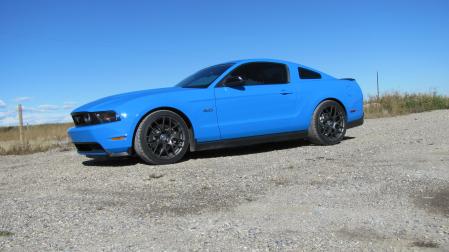 Bolt-on's Dyno Test
Installing WMS Velocity Cold Air Intake, Diablo Programmer and Kooks Long Tube Headers
March 21, 2010
Over the next few weeks we plan on dyno testing our project car to see what horsepower can be gained with our WMS High Velocity Intake, a SCT & Diablo tuner and Kooks headers. We will follow that up with a test of the new Boss Intake manifold and some custom tuning.
To start this process off, we dyno tested the car to get our base line horsepower and torque. We also dyno tested on two different dynos, as we wanted to show the difference between two common ones - the Dynojet and the Mustang MD Dyno. For those that don't know the difference between these two dynos, here is a brief explanation. The Mustang MD Dyno is a load bearing dyno that simulates actual road driving conditions. This is critical for tuning as it applies load that the car sees in the real world. The Dynojet just spins a large roller and does not apply any load so proper tuning is not possible. The drawback to the Mustang dyno is that it always reads significantly lower rear wheel horsepower than a Dynojet dyno. And because we all know how important the rear wheel horsepower number is these days we decided to run the car on both dynos!
So with the car stock but with the TSW / Toyo wheels & tires, we dyno'd it at 314 rwhp on the Mustang MD Dyno and 368 rwhp on the Dynojet.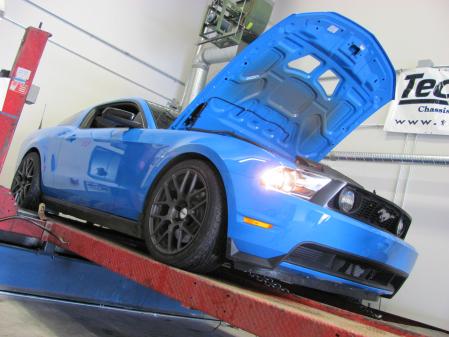 First we tested our WMS High Velocity Ram Air intake (If you would like to learn more about our 2011 intake system click here). For this test we used our 87mm MAF kit that is a direct bolt on without any tuning needed. On the Mustang MD dyno we made, 334.7 rwhp! That's a 20 rwhp gain for the intake alone.
We know everyone is going to ask about the two holes cut in our hood. This is work in progress on our flush mounted air scoops that will fit the factory hood and feed cold air directly to our intake. Stay tuned for developments on these...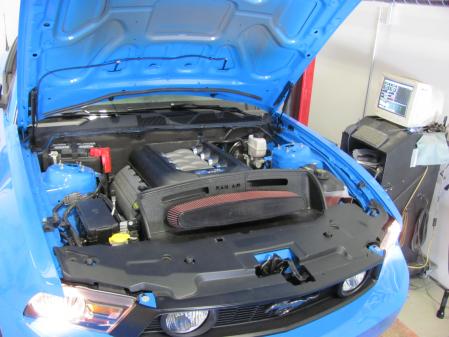 Next we tested both the Diablo Trinity and the SCT SF3 programmers with our WMS intake. These tests are just the preprogrammed 91 octane performance tunes, of course more power gains can be had with custom tunes and 93 octane fuel. Power jumped to 342 rwhp, another 7+ rwhp gain!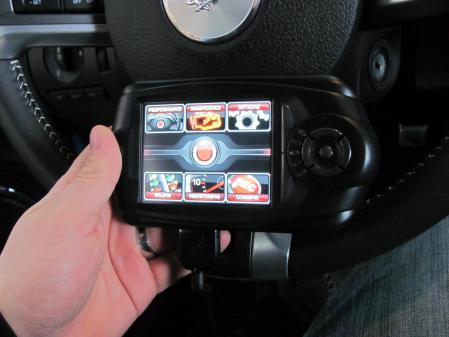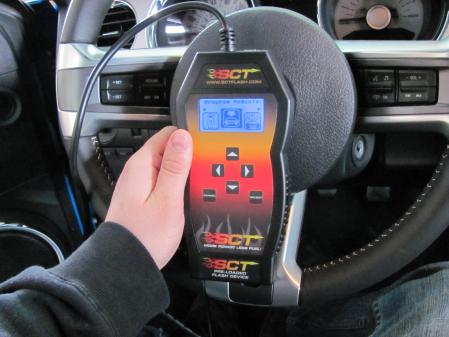 So with the engine sucking more air in, we need to get that air out again. So we bolted up a set of Kooks long tube headers with their Catted X-pipe. We also used a set of the Bassani Axle back mufflers to give it a crisp clean sound!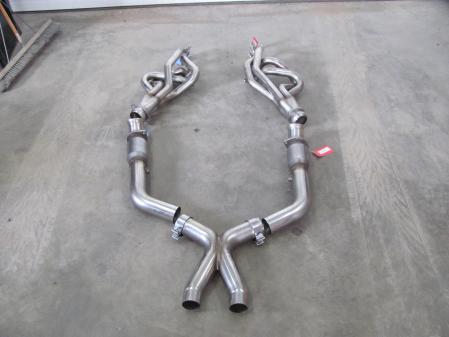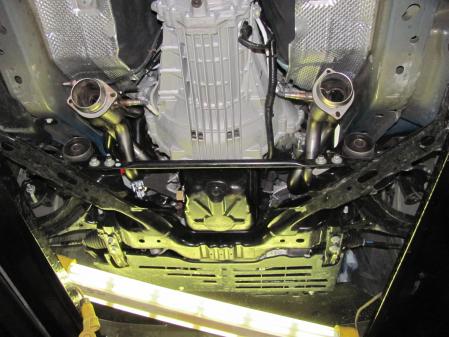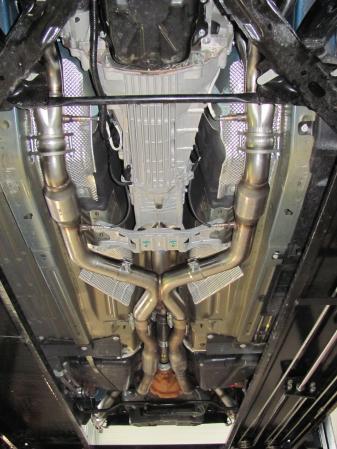 After installing all of these exhaust components it was back to the dyno, and we were rewarded with an additional 22 rwhp! Bring the car to 364 rwhp on the Mustang MD Dyno!