Want to hear the amazing sound from our Vanquish'd Pony?
Download the Vanquish'd video here:
Our original concept drawing from 2004, done before the Mustang's release.
Our plan was to pickup some of the Aston Martin's styling cues while retaining the Mustang's muscular heritage. Our final product is similar but with some changes along the way.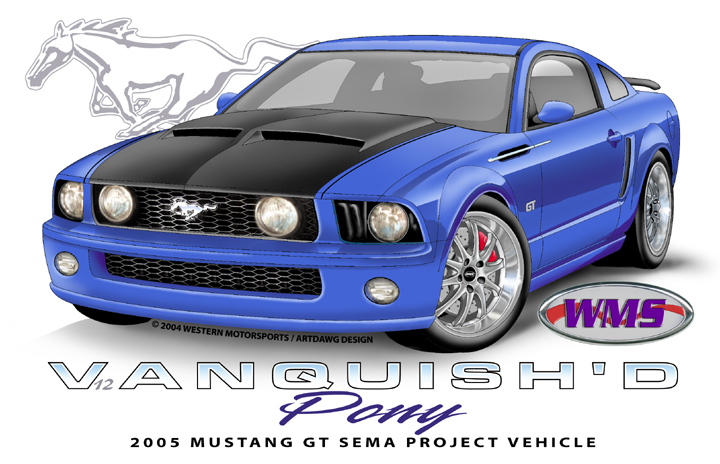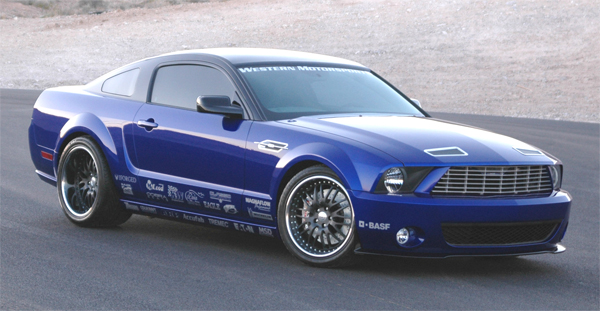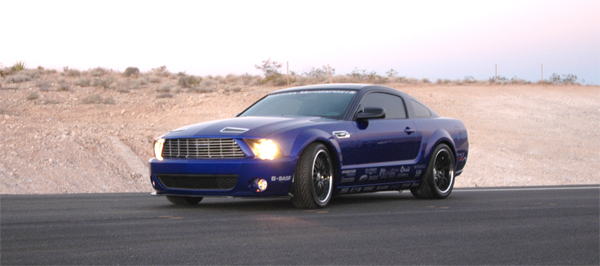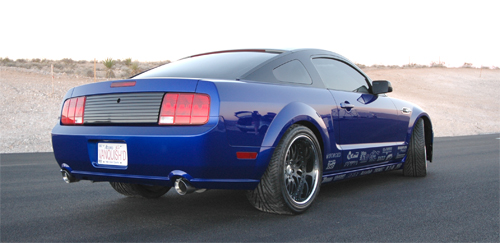 Vanquish'd Specifications
iForged 19x9 & 19x12 Essen Wheels
Michelin Pilot Sport Tires, 275/35ZR19 front, 345/30ZR19 rear
Baer Extreme 14" 6 piston brakes
KW Suspension Coilovers front & rear
BASF R-M Carrizma Candy Blue paint
Painted by Duane Flodell & Fix Auto
Classic Design Glassback roof
Classic Design hood struts & rear blackout
Cobra Missano Leather & Alcantra seats
AiM Strada Dash / Datalogger
Colecraft billet custom fender & hood vents
WMS custom aluminum grill
Aston Martin Vanquish V12
Stroked to 6.1L, JE Pistons, Eagle Rods
WMS Custom 6-2-1 hedders
WMS Ported heads and intake
Accufab TBs, WMS Velocity intakes
ARP Engine Fasteners
WMS / SDS Engine management
MSD DIS 4 ignition
WMS Wideband O2 sensors
Magnaflow 3" Cats, X & Catback
Mcleod Street Twin clutch
Tremec T-56 transmission
Eaton Detroit TruTrac Diff
Build Picture's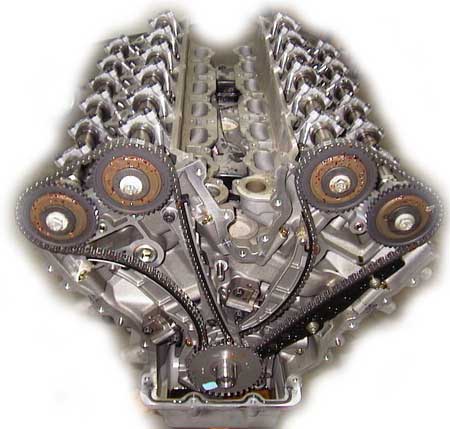 Here is the Aston Martin V12 apart to find some more power. The 04 version of this engine is rated at 520hp but we think we can do better than that. We have spent considerable time on head work with 48 valves to do! The crank is being ground for added stroke and we are using stronger Eagle rods with custom JE pistons for more compression.
Engine management will be 2 SDS units and 2 MSD DIS 4 ignition boxes. Interesting to note Aston Martin uses 2 Ford processors stock.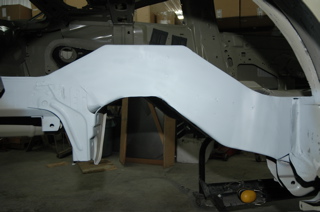 Here are the finished framerails. There are two inner steel reinforcments welded to the stock rail with the one piece outer covering it all. The end result is a stock looking framrail with about 3" more tire clearance.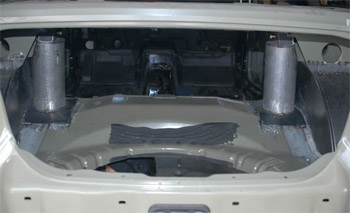 The wheel tubs are in place as are the mounts for coilovers (fit up inside the tubes) These are large enough to fit 345/30-19 tires on 19x12" iForged wheels in the back. Custom KW coilovers are used in the rear with KW coilover struts in the front.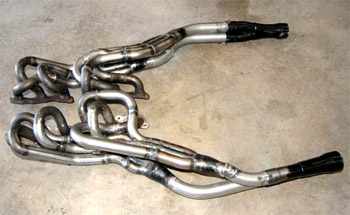 These long tube hedders really were a labour of love - lots of hours of fitting and welding here. Primarys are 1.5" stepping up to 1.625". 6 into 2 in 1 design with unique parallel merge collectors. Exhaust will be 3" with X pipe, sound will be killer!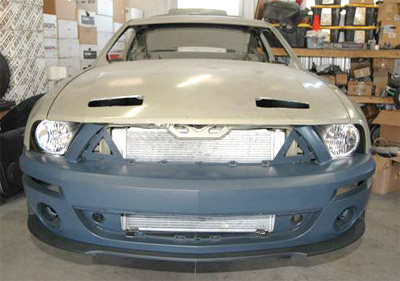 Here is a hint at the final look of the car. Nose and lights are the 07 GT500. Stock hood has been modified with openings for the dual airfilter intake. At this point everything has been fitted in the car and it is coming apart for paint. Then the tedious work of assembly begins around fresh show quality paint.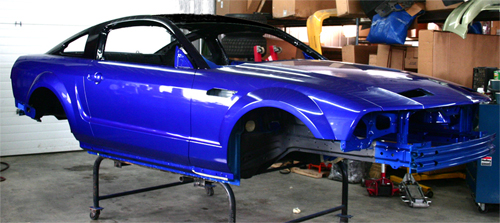 A quick picture just back from the paint shop. The color is BASF R-M Carrizma Candy Blue and was done by Duane Flodell and Fix Auto in Calgary.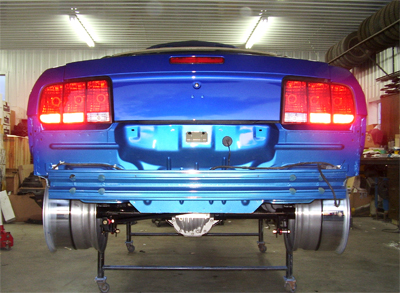 A shot from the rear showing diff and the huge 19x12" iForged wheels. Rear suspension uses rod end control arms and panhard bar, moved in to clear the tires of course.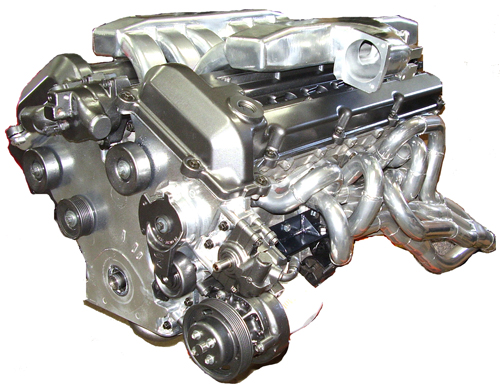 The Aston Martin just about ready to drop in. Hedders and intake are both ceramic coated to keep the heat down.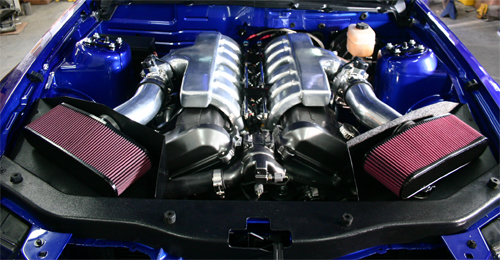 Here it is just about ready to run. Intake tubes were custom built using two of our filters for the 05+ Mustang. Cold air comes from both the grille and vents in the hood.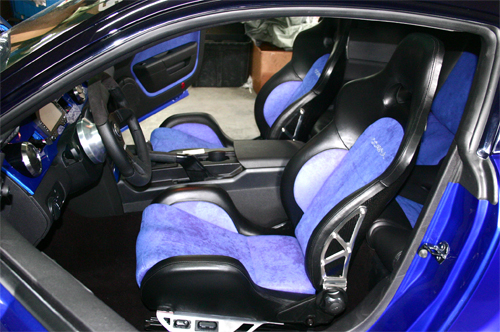 Interior shot showing Cobra seats in black leather and blue Alcantra. Rear seats and door panels were upholstered to match by J Allen Custom Interiors. Dash is custom by WMS and includes an AiM Strada that is hooked to the SDS and Widebands. The AiM handles all gauge functions and datalogging.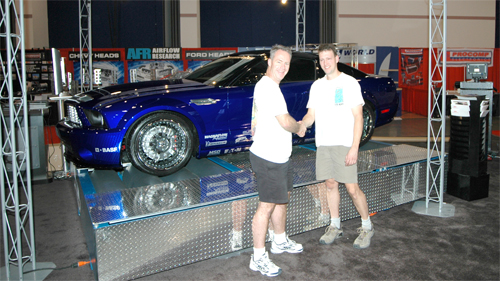 We made it to Vegas and the SEMA show! Creators of Vanquish'd Dave Lockwood and Shannon Wall of Western Motorsports with big smiles after a month of late nights getting it ready. Now where's the beer?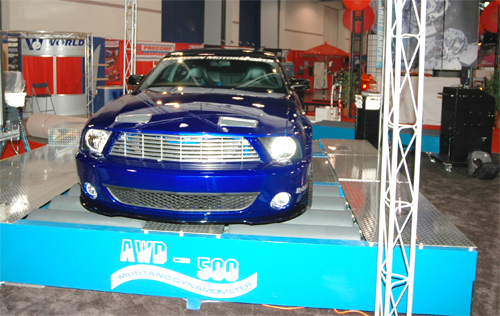 Vanquish'd was displayed in the Mustang Dyno booth at SEMA. Here it is sitting on their AWD dyno before the show opened. Response was incredible - one of the hottest Mustangs of the show built by Canadians eh!