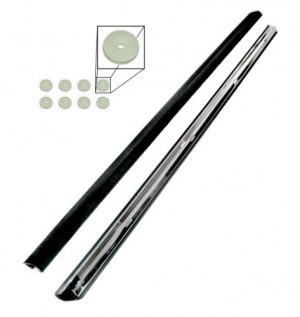 1987-93 Mustang Beltline Moldings - Pair
Be the first one to write a review
$59.23

SKU: DCR-E7ZZ-6120934
Part#
More Details
Reviews
Ask a Question
1987-93 Mustang Beltline Moldings - Pair
Fits ANY 1987-1993 Mustang GT, LX Coupe, Hatchback or Convertible
Sold as a pair
Includes 8 Outside Belt Molding Clips (Enough for one car)
Made using a stainless steel channel (rather than aluminum like others use) under the vinyl which does not dent as easy as aluminum. It took over a year to get them just right
Does not include front molding extensions that are used on 1988-1993
Convertibles. (mirrors are moved further down on the door) They are sold separately.
Ask a question about this product