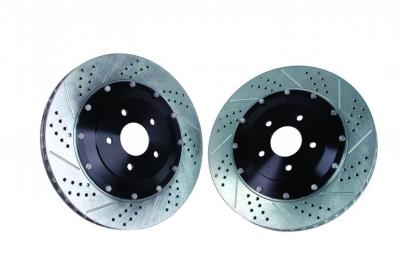 BAER EradiSpeed-Plus-2 14, rear, 2005-2014 Mustang
Be the first one to write a review
$918.37

SKU: BAE-2262019
Part# 2262019
More Details
Reviews
Ask a Question
BAER EradiSpeed-Plus-2 14, rear, 2005-2014 Mustang
EradiSpeed-PLUS 1/2 rotors are a larger diameter replacement rotor in a 2-Piece design using a CNC machined aluminum hat, anodized black. Rotors are made from a proprietary, high-friction iron formulation and use internal directional curved vanes and are slotted, crossdrilled and zinc coated silver. The two piece design is joined with NAS hardware (same as used in Indy cars) and provides a welcome reduction in total rotor weight. Brackets are included to move the stock caliper allowing use of the larger diameter rotor that provides more leverage for increased braking power.
Fits:
2005 2006 2007 2008 2009 2010 2011 2012 2013 2014
Product Information
Before ordering please use this brake template to check brake to wheel clearance.
Ask a question about this product