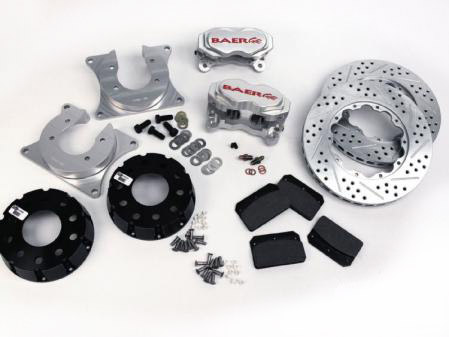 Baer Deep Stage SS4+ 11 Drag Race Front, 1994 -2004 Mustang, Red
Be the first one to write a review
$1,313.40

SKU: BAE-4261376FR
Part# 4261376FR
More Details
Reviews
Ask a Question
Baer Deep Stage SS4+ 11 Drag Race Front, 1994 -2004 Mustang, Red
The Baer SS4+ Deep Stage Drag Race brakes are light weight brakes that offer enough braking power for 3200+ pound muscle cars. Baer's SS4 4 piston calipers with stainless pistons and dual dust seals meet DOT specs and provide excellent power. 11 rotors are directionally vaned for better cooling and durability. Kits are designed as a bolt on but brake lines are not included.
Fits:
1994 1995 1996 1997 1998 1999 2000 2001 2002 2003 2004
What's Included
"
Deep Stage Drag Racing. No hoses, Rotors not assembled. Requires SN95 spindles and hubs. Hub outside diameter needs to be 5.75""
"
Product Information
Before ordering please use this brake template to check brake to wheel clearance.
Ask a question about this product