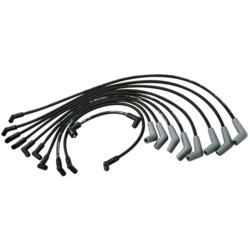 Ford Performance 9mm Ignition Wires 5.0/5.8, Black
Be the first one to write a review
$93.26

SKU: FMS-12259M301
Part# M-12259-M301
More Details
Reviews
Ask a Question
Ford Performance 9mm Ignition Wires 5.0/5.8, Black
Ford Racing spark plug wires for your 5.0 or 5.8 EFI engine.
Wire-wound custom ignition wire sets feature low resistance for minimum spark loss.
Silicone insulation and boots withstand high temperatures and voltage loss for minimum cross-fire and are highly resistant to fuels, oils and solvents.
Long-life, tough stainless steel terminals for post type distributor caps.
Includes coil wire for socket-type coil and Ford Racing identification.
Cylinder number appears on each wire.
Ask a question about this product