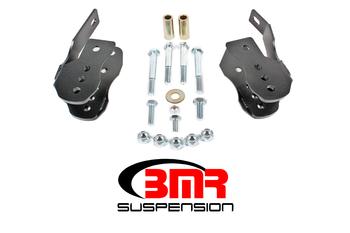 BMR Control Arm Relocation Brackets, Bolt-on, 2005-14 Mustang
Be the first one to write a review
$241.06

SKU: BMR-CAB005H
Part# BMRCAB005H
More Details
Reviews
Ask a Question
BMR Control Arm Relocation Brackets, Bolt-on, 2005-14 Mustang
Correcting the rear suspension geometry. Repositioning the instant center on your S197 Mustang and add anti-squat for harder launching and reducing wheel hop.
Manufactured from heavy-duty 3/16 and 1/4 inch steel
Direct Bolt-in
NOTE: When using CAB005 with stock rear lower control arms, modification may be necessary to position control arms in upper mounting positions.
Ask a question about this product