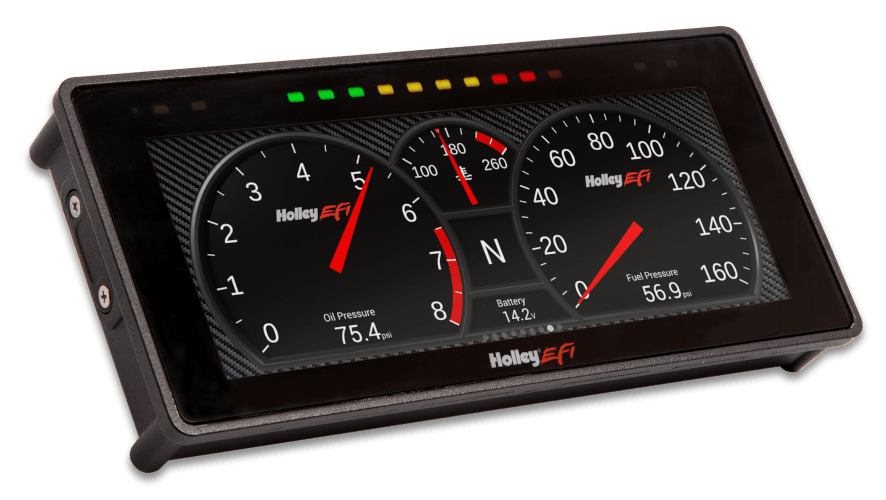 Holley EFI Pro Dash, 6.86 in. - Touchscreen, data logging, GPS
Be the first one to write a review
$1,649.85

SKU: HOL-553112
Part# 553-112
More Details
Reviews
Ask a Question
Holley EFI Pro Dash, 6.86 in. - Touchscreen, data logging, GPS
Holley's new 6.86" Pro Dash delivers over 200 monitoring channels of reliable real-time data in a more compact, full HD package suitable for nearly any performance application.
Plug-and-play Display support for Dominator, HP, Terminator X and Sniper EFI
Integrated a 10-LED Programmable shiftlight w/ 4-LED warning indicators for other sensor inputs.
Capable of monitoring up to 238 real-time values such as RPM/TPS/Boost
10 default background skins pre-loaded with unlimited options for importing custom layouts
Quickly swipe between multiple active screens (tune, warm-up, race, drive, etc.)
Manual or auto-brightness features for easy viewing day or night
Built-in GPS with odometer function (Antenna included)
On-screen datalog playback features allows you to review vital run information
No stylus required, capacitive touch, just like your smart phone.
User definable channel alarms and warnings
USB Keyboard and Mouse functionality makes it quick and easy to setup new layouts
Includes 34 Pin Wiring Harness contains Power, Ground and CANbus connections
Input and output functionality for 13 multi-configurable inputs, and 4 ground switched outputs.
Ask a question about this product