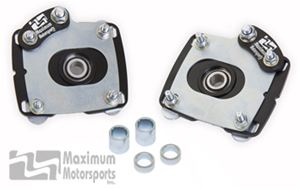 Maximum Motorsports Caster / Camber plates, 2011-14 Mustang GT and V6
Be the first one to write a review
$397.56

SKU: MMM-MM5CC6
Part# MM5CC6
More Details
Reviews
Ask a Question
Maximum Motorsports Caster / Camber plates, 2011-14 Mustang GT and V6
Maximum Motorsports Caster / Camber plates for the 2011+ Mustang allow use of aftermarket 2005-2010 struts in the 2011 while increasing the range of alignment adjustment.
-Bolts on! No drilling or cutting required.
-1.6-degree continuous range of camber adjustment provides alignment correction on lowered cars, and is adjustable without affecting caster.
-0.7-degree continuous range of caster adjustment provides correction for OEM production tolerances.
-Caster and camber are easily adjusted at the top of the strut tower.
-The range of suspension travel can be shifted, allowing for additional bump travel on lowered cars.
-Teflon lined spherical bearing eliminates deflection and precisely locates the strut shaft, while still allowing the required articulation.
-High-tech composite thrust bearing transfers the spring load into the strut tower.
-All parts are either plated or powder coated for great looks and long lasting protection.
-Warranty: Maximum Motorsports Caster/Camber Plates part #Mm5CC-1 have a limited lifetime warranty against spherical bearing failure or plate failure.
Ask a question about this product