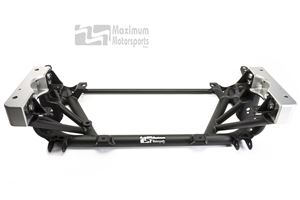 Maximum Motorsports K-Member, 2005-2014
Be the first one to write a review
$1,273.74

SKU: MMM-MM5KM7
Part# MM5KM-7
More Details
Reviews
Ask a Question
Maximum Motorsports K-Member, 2005-2014
MM K-member for 2005-2014 Mustangs. This new MM design achieved not only our primary design goal of improved handling performance for a lowered Mustang, but it also met all of our secondary goals.
Design Goals Achieved
Optimized roll center height for a Mustang lowered to the limit of the American Iron rules.
Stronger and stiffer than stock k-member, to allow less deflection under cornering and braking loads.
Fits stock motor mounts, for least change in NVH
Fits stock front control arms, with stock or aftermarket bushings
Fits both electric and hydraulic steering racks
Allows easy oil pan removal without requiring additional engine support
Upgradable to SLA suspension
Note
Not compatible with extended-length ball joints.
Ask a question about this product