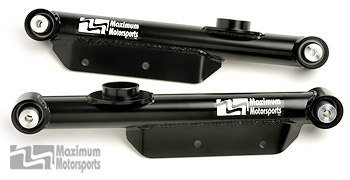 Maximum Motorsports Extreme-duty Rear Lower Control Arms, 1979-98 Mustang
Be the first one to write a review
$495.60

SKU: MMM-MMRLCA30
Part# MMM-MMRLCA30
More Details
Reviews
Ask a Question
Maximum Motorsports Extreme-duty Rear Lower Control Arms, 1979-98 Mustang
Maximum Motorsports control arms maximize traction in a straight line and around corners. The best upgrade for the Fox rear suspension.
Reduces unwanted deflection found in stock rubber bushings and stamped arms.
Spherical bearings on both ends of arm allows proper articultion and reduces bind of the 4 link.
Direct bolt in with stock type springs and swaybar.
Reduce stress on the torque boxes
Extreme duty arms are well suited for drag cars or over 600hp street cars.
Ask a question about this product