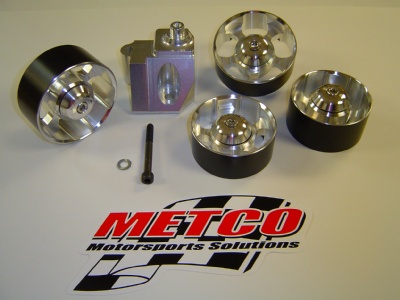 Metco Idler pulley and bracket kit, 5 piece, 03-04 Cobra
Be the first one to write a review
$543.09

SKU: MET-MCIKIT
Part# MCI-KIT
More Details
Reviews
Ask a Question
Metco Idler pulley and bracket kit, 5 piece, 03-04 Cobra
This convenient kit is offered to simplify the process of outfitting your supercharged Cobra with complete set of heavy-duty idler pulleys and the auxiliary idler bracket. The kit includes our durable and proven Cobra auxiliary idler bracket with hardware, (1) pulley to mount on the bracket, and (3) billet idlers to replace those found on the factory supercharger drive.
The bracket is the same extreme-duty idler bracket listed under PN MCI-90 and the idlers are the precision-machined, hardcoat-anodized billet idlers with bearing covers
This idler kit includes single bearing pulleys, and with (1) 90mm and (3) 100mm pulleys.
Ask a question about this product