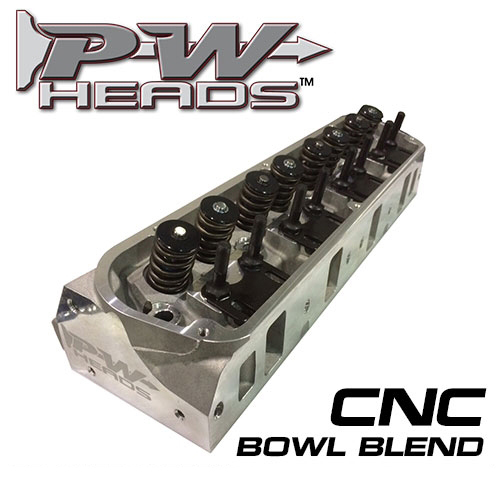 PFW 175cc Aluminum Heads (pair), CNC Ported, 2.02/1.60 Hyd Roller, SB Ford
Be the first one to write a review
$1,849.00

SKU: PFW-60170CNCA2
Part# PFW-60170CNCA2
More Details
Reviews
Ask a Question
PFW 175cc Aluminum Heads (pair), CNC Ported, 2.02/1.60 Hyd Roller, SB Ford
A great pair of aluminum CNC ported heads for your Small Block Ford that are assembled in Canada!
175cc Heads with 5-axis CNC bowl blend porting.
2.02" intake, 1.60" exhaust, 61cc combustion chambers.
Flow 272cfm intake, 189cfm exhaust at .600" lift .
Assembled with 1.47" OD springs for hydraulic roller cams up to .625" lift.
7/16" stud mount for roller rockers
Assembled with a detailed flow sheet and assembly blueprint.
Will not work with stock 5.0 pistons, larger valve reliefs are required.
Ask a question about this product