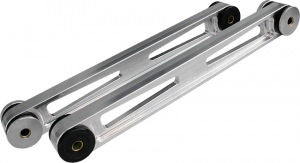 Steeda Billet Rear Lower Control Arms, urethane bushings, 2005-14 Mustang
Be the first one to write a review
$419.15

SKU: STD-5554405
Part# 555-4405
More Details
Reviews
Ask a Question
Steeda Billet Rear Lower Control Arms, urethane bushings, 2005-14 Mustang
Steeda's super strong Billet rear lower trailing arms replace the stamped steel OEM parts. The best modification you can make to your rear suspension!
Eliminates wheel hop and helps plant the rear tires in corners.
Polyurethane bushing package ensures smooth, quiet operation.
Minimal increase in NVH as the billet arms absorb noise, vibration and harshness. Steel tubular arms will amplify noise and vibrations.
6lbs lighter than the stock control arms.
Easy bolt on installation.
Ask a question about this product